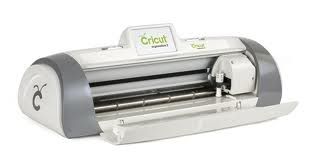 My Cricut Expression 2 Has Finally Arrived!!!!!!!!!!
I have been waiting weeks & weeks for it to arrive. Since I live overseas and have to ship APO, some companies will not ship APO for whatever reasons. In September HSN was launching the new Cricut Expression 2.
At first I honestly did not think about purchaseing this new Cricut machine. I already have a Cricut Expression and it is in pristine condition, even though I've had it for several years. It has been very good to me.
Then I sat and watched HSN's show & I was drooling and it was all of a sudden a must have! As you know, there is always something better, with more features. We LOVE features. The more something can do, the better. I fell in love.
So, I purchased it but had to have it sent to my family, so they could then send it to me here in Japan. Sadly it was sent regular, very snail mail. Should have been sent Priority but no use crying over spilt milk. Next time that wont happen,lol.
I was starting to think it was never going to make it here. Then of course when I gave up on it getting here, it showed up. Happy me! Be jealous!!!